Right after having MBug a couple of years ago, we had a record-setting HOT summer.  I found myself stuck inside quite a bit with the three kiddos about to lose my sanity.  Seriously.  NOT my idea of fun.  I firmly believe that if I'd had Anna's new ebook, 75 Ways to Have More Fun at Home, I would have kept my sanity (at least most of it) and had FUN in the process.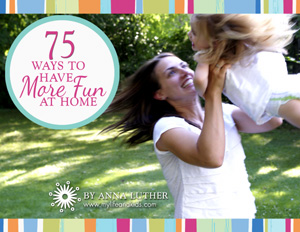 Just recently, Anna sent me her new ebook to read and share with you my honest opinion.  I set it in my mind to only read part of her book in my first sitting, but could not stop reading.  My absolute favorite thing about her book is that her ideas are simple and DO NOT heap on the mommy guilt of "I'm not doing enough."  Anna keeps it real with her sense of humor and transparency as a mother.
Would you like just a small sampling?  Try these on for size!
You can download a copy of her book for $3.99 here.  It will be well worth the money when you can do something creative and fun in response to the "I'm bored" line…or when the weather doesn't cooperate with your plans to lock the kids outside all day. 🙂
~Becky
Want MORE Free Teaching Resources?
Join thousands of other subscribers to get hands-on activities and printables delivered right to your inbox!